North Cyprus Daily Tours
All tours include museum entrance fees and English speaking tour guide. Full day tours include lunch (excluding drinks).
Nicosia Tour
Every Thursday
Half day tour, 9am to 2pm
Highlights:
Walls of Nicosia
Selimiye Mosque (St. Sophia Cathedral)
Grand Bazaar (Bandabuliya)
Great Inn (Buyuk Han)
£25 per person
Karpas Peninsula Tour
Every Friday and Sunday
Full day tour with lunch, 9am to 6pm
Highlights:
Bogaz fishing village
Lunch at a village tavern
Apostolos Andreas Monastery
Wild donkeys and swim unspoilt beaches
£35 per person
Famagusta Tour
Every Tuesday
Full day tour with lunch, 9am to 6pm
Highlights:
Famagusta old city walls
St Nicolas Cathedral and Othello's Tower
Ancient Roman city of Salamis
St Barnabas Monastery
£35 per person
Bellapais & St Hilarion
Every Wednesday
Half day tour, 9am to 12pm
Highlights:
St. Hilarion Castle
Fabulous views of Kyrenia's coastline
Bellapais village - Lawrence Durrell's "Bitter Lemons"
£25 per person
Jeep Safari
Everyday
Full day tour with lunch, 9am to 4pm
Highlights:
Off-road adventure on Kyrenia mountains
Amazing views and hidden places
Traditional Cypriot lunch
Entry to the Mavi Kosk Museum
Not available
Custom Private Tours
Fully customisable to your needs.
Full day tour with lunch, 9am to 6pm
Includes:
A full day vehicle for just your party
Private tour guide included
Museum entrance fees included
Lunch included
£50 per person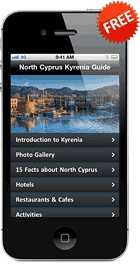 North Cyprus iPhone App
The first and only app dedicated to North Cyprus.
This app puts the top beaches, hotels, restaurants, sports, adventures, and historic sites in the palm of your hand!
Our independent guide to Kyrenia is like having a local Cypriot by your side, sharing with you the best places to go, to eat, or just soak up the sunshine.
More info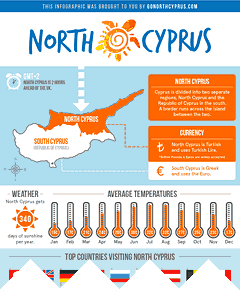 North Cyprus Infographic
Our famous infographic about North Cyprus holidays.
Feel free to share the infographic in social media or download it and use it on your own blog!
More info
North Cyprus Guide
GoNorthCyprus.com are your reliable and informed North Cyprus holiday experts, because our team live and work here!
We know the best North Cyprus beaches, the friendliest Kyrenia hotels, the Northern Cyprus holiday villas with the best views, and the tastiest North Cyprus restaurants too.
There's so much to enjoy on a North Cyprus holiday, including:
relaxing on golden beaches lapped by warm Mediterranean Sea
thrilling watersports, or learn to scuba dive in sheltered coves
exploring beautiful countryside in the Karpaz Peninsula or glorious mountains covered in shady pines forests
walking in the footsteps of Greeks, Romans and Venetians in ancient towns and historic castles
Book your North Cyprus holidays 2016 today, and discover the delights of North Cyprus with GoNorthCyprus.com, your North Cyprus holiday experts!