Noord Cyprus Gids
GoNorthCyprus.com is uw betrouwbare en geïnformeerde Noord Cyprus vakantie-expert, want ons team woont en werkt hier!
We bieden dagelijks rondleidingen aan in Noord Cyprus, inclusief busreizen naar het schiereiland Karpaz, een boottocht rond Kyrenia en unieke ervaringen zoals een Turks bad..
We kennen de beste Noord Cyprus stranden, de vriendelijkste Kyrenia hotels, de Noord Cypriotische vakantievilla's met het beste uitzicht en weten de lekkerste Noord Cypriotische restaurants..
Er is zoveel te genietentijdens een Noord Cyprus Vakantie, zoals:
ontspannen op de gouden stranden omspoeld door de warme Middellandse Zee
spannende watersporten, of leren duiken in beschutte baaien
het verkennen van het prachtige landschap op het schiereiland Karpaz of glorieuze bergen bedekt met schaduwrijke dennenbossen
wandelen in de voetsporen van de Grieken, Romeinen en Venetianen in oude steden en historische kastelen.
Boek vandaag nog uw Noord Cyprus vakantie 2020, en ontdek de heerlijkheden van Noord Cyprus met GoNorthCyprus.com, uw Noord Cyprus vakantie experts!
Coronavirus situation in Northern Cyprus
Noord Cyprus ervaring
Bekijk een 3 minuten durende video van een koppel dat Noord Cyprus bezoekt voor een week vakantie!
Noord Cyprus iPhone App
De eerste en enige app gewijd aan Noord Cyprus.
Deze app legt de topstranden, hotels, restaurants, sport, avonturen en historische plaatsen in de palm van je hand.
Onze onafhankelijke gids voor Kyrenia is alsof u een lokale Cyprioot aan uw zijde heeft die de beste plaatsen om uit te gaan, te eten of gewoon genieten van de zon met u deelt.
Meer Info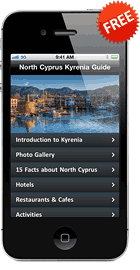 Noord Cyprus Infographic
Onze beroemde infographic over Noord Cyprus vakanties.
Deel de infographic gerust op social media of download hem voor gebruik in je eigen blog!
Meer Info